HOME HOTEL ROOMS RESTAURANT LOCATION & MAPS LINKS CONTACT US ( Iletişim)
(Our Town) Bogazkale Hittites Hattusha Yazilikaya Alacahoyuk Sapinuva Kerkenes
-------------------------------
BOGAZKALE YOUTH SPORT 2003
Bogazkale Youth Sport was established by Ahmet Baykal in April 2003. Sponsor is Ahmet Baykal for HOTEL BAYKAL . Bogazkale Governor organized Governership Spring Tourneys for all the town clups in May 2003. We had won and gotten a cup from Bogazkale Governor . We had also picnic for celabrating this success at the end of the tourney.Many people had been joined us also from Bogazkale. Ahmet BAYKAL.
BOGAZKALE GENCLIK SPOR 2003
HERSEY BOGAZKALE VE GENCLER ICIN IDI
Bogazkale Gençlik Spor Nisan 2003' te ben Ahmet Baykal tarafından kurulmuştur.Ayrıca tüm sponsorluk hizmetini de HOTEL BAYKAL adına kendim tarafımdan üstlendim.Kulübümüz,Bogazkale Kaymakamlığı'nın Mayıs 2003' te ilçe çapında düzenlemiş olduğu, Bahar turnuvalarında Kaymakamlık Kupasını almıştır (Bkz.fotolar).Ayrıca Ormandaki suni gölet yanındaki piknik alanında tüm oyuncularla birlikte başarılarını kutlamak için piknik yapmıştık. Bogazkale' den konuklar da katılmışlardır. Ahmet BAYKAL.
PHOTOES - FOTOLAR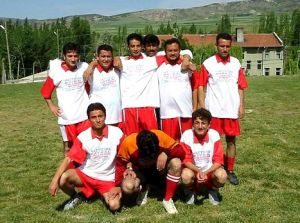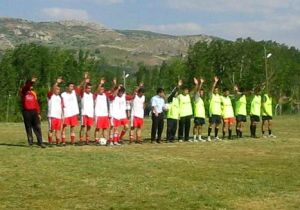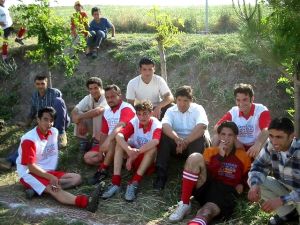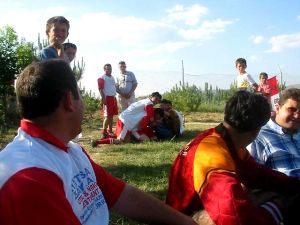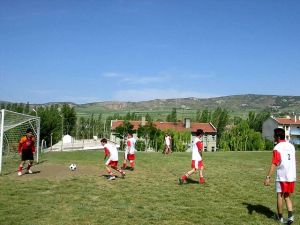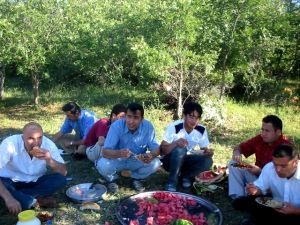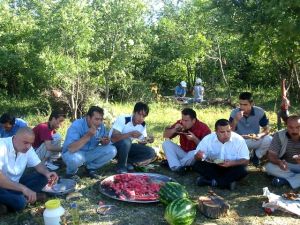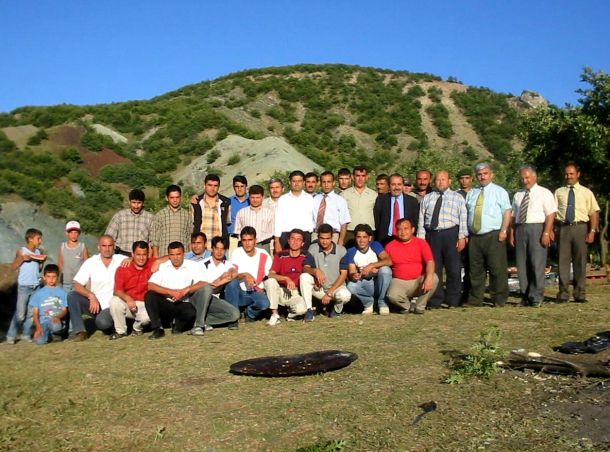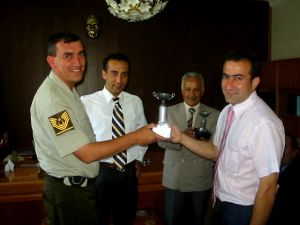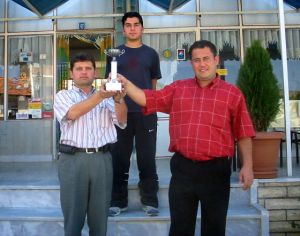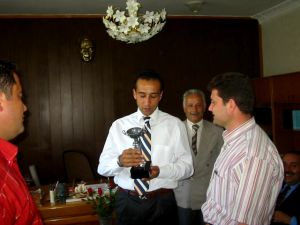 Sponsor and stablisher AHMET BAYKAL ( on the right ) is having cup from Bogazkale Governor
Kurucu ve sponsor Ahmet BAYKAL (sagda) Bogazkale Kaymakamı'ndan kupa alirken.
Prepared by
( Private mail : cornerahmet@hotmail.com ) ( Mob: +90 536 7404668 )
CAUTION: Informations and photoes can't be used for publishing except giving link with permission / UYARI: Bilgiler ve fotograflar izinli link verme disinda yayinlanamaz - Ahmet BAYKAL - [ cornerahmet@hotmail.com ]
HOTEL BAYKAL - Restaurant & (Hattusas Pension) - www.hotelbaykal.com - Reservation: hotelbaykal@hotmail.com
Webmaster : Ahmet BAYKAL - [ cornerahmet@hotmail.com ] [ BAYKAL Turizm Tic. Since 1989 ] Last update: Pazartesi, 05 Nisan 2021 17:49